Find the right partner
for your baby project
If you are planning to have a baby, you need to find the right partner, this is what Dating for a baby means. So you should date men or women who have the same intention as you have.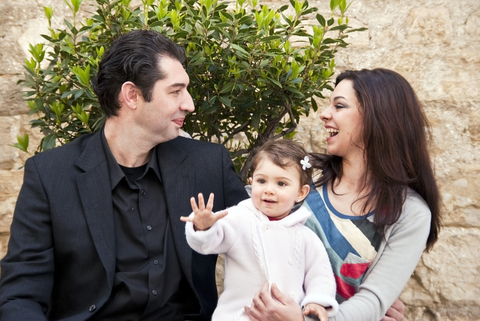 You'd need to find this out soon, instead of getting involved and attached to a partner, maybe for a long time, and later realize it's no longer going to work because your partner doesn't want to have children. Even if the relationship lasts, the partner who wanted to have children will never be completely happy.
At the beginning of a relationship everything seems so wonderful that one thinks it will always be like this and that your partner will change his or her mind and will want children later on. Unfortunately, it's when problems arise that you see the real character of your partner and how stable the relationship really is and a big disagreement on something like this it's very likely to cause arguments and problems.
Here is an article by a man who carried out a study at Keele University (UK) that shows that men have the same desire of having a baby as women have and these men's feelings about being childless. I feel quite sad when reading this article and it makes me feel that dating for a baby is really important. Robin Hadley: I know all about broody men who long to be dads. I am one
Read it and do something so that you don't find yourself in the same situation in twenty or thirty years! (not even in 5!)
Let's see how you can do this.
How to investigate gently
June 2015 update: a perfect way to start a conversation on this subject is to talk about the royal baby, the whole world is talking about him!

When you ask your date some questions, don't be inquisitive, instead just throw one question into the conversation lightly, to prompt a reaction.
Otherwise, instead of a question, you can make a statement about children, or about other people you know who have children, or about children that are around you at the moment, you can comment on their behaviour. Just say anything that could prompt your date to start saying something on the subject of children, so that you make him or her talk about it and continue.
If your date already has children, make him or her talk about them, to see if he/she is really happy about having children (it might have been an "accident"). Ask how they get on, what they do together, to see if he/she is a cooperative, caring parent. He/she may even say they'd like to have more children or none at all.
So, you'll have one more element to decide whether your date is a good candidate for your project and you are on the right track to find the right partner. After all, this element is at least as important, actually much more important, than your date's height, hair and eye colour, hobbies etc.
Consider the number of questions you get asked in a job interview, because that company wants to find the right partner for their business and this way they can see if you are the right person for them. What are your intentions? Where do you see yourself in 5 years? Why did you apply for that job? (what attracted you to me?)
So why shouldn't you know the same about your future partner? After all, you hope to spend the rest of you life with him or her.
Have a purpose in common
All relationships start because of physical attraction but that alone cannot be enough to guarantee a long-lasting relationship. Having some interests in common is important, but it may not be enough.
It is necessary to have a purpose in common, a project, something toward which you can work together for a long time and having and bringing up children is quite a big project.
Therefore, also having a similar view of life is important. This includes how many children you want and how you would bring them up. So, it's important to talk about this.

What if you won the lottery?
When you are dating for a baby, a good way to find out more about your potential partner's character in a light-hearted way is to ask "What would you do if you won the lottery?" Ask this question as if you were playing a game, just for fun.
At this question, people usually tend to unleash their imagination and confess their most secret dreams because winning the lottery appears an impossible thing, so there is no risk, no commitment in stating what they really would like to do in life (it's never going to happen, they think...).
Answers to this question can be eye-openers. I read the story of a couple who did win the lottery and, because of bad management and different views on what to do, their relationship ended. I'm not saying that winning the lottery is bad, but you need to be able to handle the money and the situation. It's possible to learn from their stories and mistakes (be prepared, in case you do win the lottery!). There are also good stories.
Find out all you can
It seems obvious that you should find out all you can about your potential partner, especially if you are dating for a baby and need to find the right partner. It is difficult, yet talking with friends whose relationship ended I couldn't help thinking and sometimes saying "How come you didn't find this out earlier?". Yes, because in many cases it was apparent that their disagreements were about something that would have been easy to discover early, in many cases they just didn't talk about it, they didn't ask. We can learn from other people's mistakes.
So, if it may be quite challenging to find the right partner and getting to know a person's real character is difficult, at least when you are dating for a baby, find out whether your partner wants to have children, this is easy.
Go from Find the right partner to Meet single people
Home › Find the right partner
---