What's the problem with
pregnancy after 35?

Apparently, pregnancy after 35 is becoming more and more common and with it, all the warnings against it.
I started thinking, why? It should be natural, since women generally have their cycles for several years after that age. That means Nature considers women capable of carrying out a pregnancy after 35.
Why all this pressure? Why making women feel guilty if they don't comply with the rules dictated by the official medicine? Yes, because they have a lot of power to spread their message and they do manage to make you feel wrong.

I like to follow Nature as much as possible, so my idea is that women should be "allowed" to get pregnant after 35 and well after that, at least until they naturally can. And even after that, if they fancy. If gay men can have children, why not a woman?
This is what always happened in the past when there was no contraception, have we forgotten this?
Study published on the University of Oxford Journals
Too old to have children? Lessons from natural fertility populations

They studied over 58,000 women from six natural fertility populations, representing different historical time periods.
Here's their conclusion:

"Our findings challenge the unsubstantiated pessimism regarding the possibility of natural conception after age 35 years."
So it's official, good news! (we knew it already)

Are there hidden interests?

I started to suspect, are there any hidden interests? I bet there are. I guess the pharmaceutical industry wants to convince women to start using their fertility treatments as soon as possible, hoping they can use those treatments for longer. By the way, there are natural treatments to improve fertility, much less invasive, traumatic, expensive and more effective.
They are simple and involve changing a toxic lifestyle and eliminating poisons from our environment, as much as possible. Read more on fertility tips.

So if you fear getting pregnant after 35, I'd like to reassure you that this is just natural and if someone has problems, in most cases they depend on an unhealthy lifestyle, so common in Western industrialized countries, where fertility issues in both men and women has been dramatically increasing.

In my opinion, a woman's general health is more important than just her age. There are "older women" who are much healthier and fitter than younger women.
You are in good company!

Music celebrity's mother over 250 years ago had a pregnancy after 35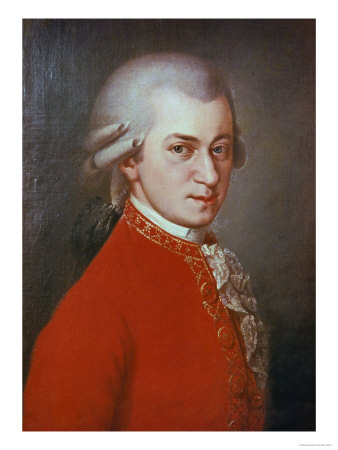 Everybody has at least heard of Mozart, a genius, without any doubts. Mozart's mother was almost 36 when Wolfgang Amadeus was born (over 250 years ago, in 1756) and apparently this didn't have a negative effect on his intelligence.
There have always been what they now call "older mothers". Read about more women and their pregnancies after 35 happened centuries ago. Since I love music, I discovered other famous composers' mothers who had their child after the age of 35.
George Philip Telemann's mum was nearly 40 when she gave birth to him, in 1681
Max Bruch was born when his mother was 39, in 1838 and she had another child at 42
Edward Elgar's mother was 35 at his birth in 1857
Read also about composer's mothers who were pregnant over 40.
Also some recent cases of women over 50 and pregnant.
Best wishes!

Home › Pregnancy after 35
---